São Paulo, Internacional and Flamengo are all fighting fiercely for the title, with Grêmio just behind — and all are doing so with a clutch of foreign players earning the plaudits for their respective teams.
It's a trend being seen across the Brasileirao this season.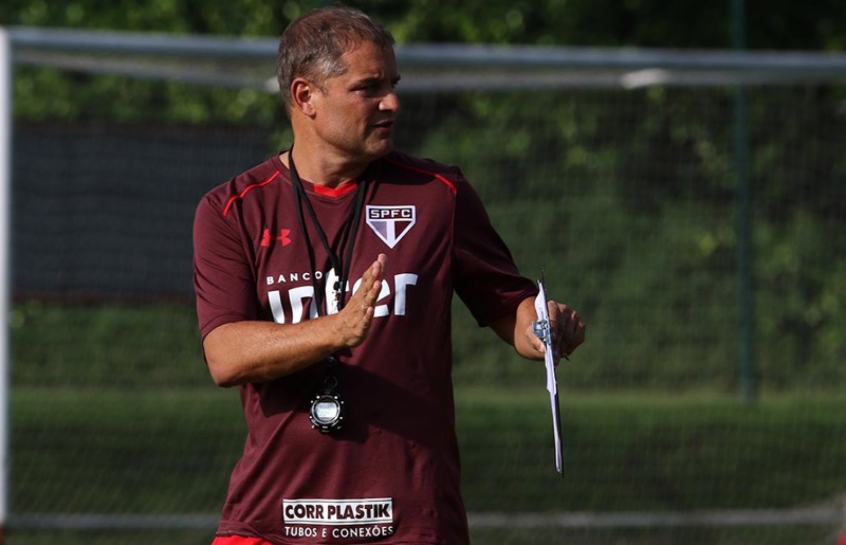 The Brazilian leagues largely focus on domestic talent, with the majority of the players coming from the academies.
Brazil has had some examples of foreign influence in the past.Argentinians Carlos Tevez and Javier Mascherano helped Corinthians win the title in 2005, while Diego Lugano had a huge influence in São Paulo's Libertadores title in 2005 and Brasileirão in 2006.
Chile's Elias Figueroa became a cult hero at Internacional and captained the side that won the Brasileirão in 1975 and 1976.
Across the 20 teams taking part in this year's Serie A, 71 of the players came from abroad and one of the manager guiding the teams is foreign.
The coach from abroad
Diego Aguirre is a well-known manager in Brazilian football. The Uruguayan had a spell at São Paulo in his playing career and managed Internacional and Atlético Mineiro. Aguirre arrived in the Morumbi to replace Dorival Jr. as the manager in March and since then, changed the way São Paulo play.
The Tricolor have been very inconsistent when appointing managers — 25 appointments in the last decade. That constant flux of managers made it hard for any one manager to set a style and ethos.
But Aguirre seems to be making his mark in São Paulo.
Aguirre's side focuses on organization and intensity without the ball. That means that his teams are energetic and tend to create a lot of chances by winning the ball back. Aguirre's teams press high on the pitch and exploit the pace of the players, who are often wide to give width to the team. With players like Everton and a technician like Nenê, Aguirre has good pieces to work with and is giving an identity to São Paulo, something that has been lacking at least for the last decade.
Players making their mark
São Paulo's title contenders, Internacional, are benefiting from their own influx of foreign talent.
Fan favourite Andres D'Alessandro has had a huge influence since arriving at Porto Alegre in 2008, and conquered South America with Inter, winning the 2009 Copa Libertadores.
This year, if Internacional are surprising a lot of people, it is thanks to the talents of foreign players.
Last season, the Colorado were playing the second tier of Brazilian football for the first time in history. This season, they've stormed back into the Brasileirão and staged a surprising title push — largely thanks to their foreign imports.
Centre-back Victor Cuesta has been a rock at the back, boasting some impressive numbers. The Argentine has an average of 3.6 interceptions per game, per WhoScored, 1.4 tackles and helped Inter keep 11 cleans sheets in 20 matches, with the Colorado also the second-best defence in the Brasileirão with 12 goals conceded.
Former Roma striker Nico Lopez is showing more consistent glimpses of his talent, scoring six goals and helping with two assists. Fellow attacker Jonatan Alvez is starting to get chances and paying off the faith of manager Odair Hellmann, scoring two goals in five appearances.
Chasing Internacional in the table is Flamengo. The Mengão's crop of foreign talents may not be the biggest threats in the squad, but they're vitally important to the success of the club.
Defensive midfielder Cuellar is a vital part of Flamengo's midfield system, with the Colombian being the guy responsible for taking the ball back, a role that is highlighted when looking at his 4.4 tackle average per game in the Brasileirão.
Full-back Trauco is a good rotation option coming from the bench, while Colombian Fernando Uribe is adapting to the style of play, and offers something different when coming off the bench.
The reigning Libertadores champions Grêmio have been consistent since Renato Gaúcho came back in 2016, and a major part in this consistency is thanks to Argentine defender Walter Kannemann.
Grêmio have the best defence in this year's Brasileirão, with just nine goals conceded. Even though Kannemann spent some time in the sidelines due to an injury, he has been a key part of the defensive set-up. His statistics show how well-rounded he is, averaging 2.8 tackles and 1.8 interceptions per 90 minutes.
The impressive displays from the defender earned him a first call-up for the Argentina national team, under interim manager Lionel Scaloni, who sees a solid defender to help renovate the national team.
Outside the title race
Foreign players are not only have an impact in the title race, but across the whole league.
Corinthians have the Paraguayan Angel Romero, who is the side's top scorer and joint foreign top goalscorer this season. Last season, Romero also had a big contribution in Corinthians title winning season, scoring three goals and assisting three times.
In Cruzeiro, under Mano Menezes, Uruguayan Giorgian De Arrascaeta has been one of the best playmakers in South America. Arrascaeta was linked with a move away to Monaco, but it looks like he's staying at Belo Horizonte. With 10 direct goal contributions this season, Arrascaeta is also Cruzeiro's top foreign goalscorer in the club's history.
We don't know how the Brasileirão will end up, and this is exciting. It has been a while since the league had an open title race like this and with so many possible outcomes. But one undeniable things is, despite the Brazilian players still being dominant, the foreigners are being decisive this year.